Smile Makeover After Orthodonitc Treatment in Lake Mary, FL
Procedure Details
Conservative Post Orthodontic Smile Makeover includes: Gum recontouring, Zoom whitening, Cosmetic additive bonding, Implant supported all porcelain crown with chairside custom staining and characterization in our office lab.
More
Smile Makeover B & A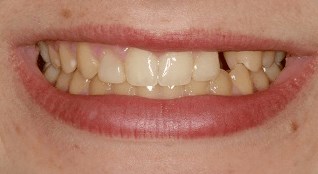 Smile Design and Cosmetic Dentistry completed by Dr. Patricia Roach. More
Post Orthodontic Enhancements
After finishing orthodontics this patient wanted to cosmetically enhance her smile. Gum recontouring was done and then zoom whitening. Additive cosmetic bondings were done to create more ideal proportions for the front teeth. An implant was placed to replace a congenitally missing tooth with an all ceramic crown over implant that was custom stained and shaped in our in office lab. The final result was a very conservative treatment with beautiful youthful results.