Emergency Cosmetic Dentistry in Lake Mary, FL
Procedure Details
Emergency Cosmetic Dentistry included: Root canal treatments and Conservative Partial Porcelain Veneers with Custom Staining and Characterization in our Office Lab.
More
Before & After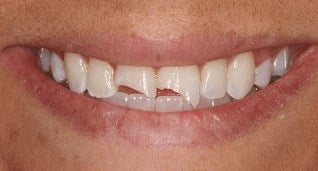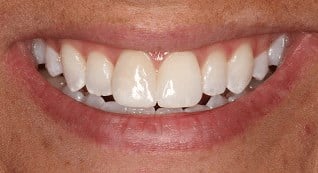 Emergency Cosmetic Dental Treatment completed by Dr. Patricia Roach. More
Emergency Cosmetic Dentistry
Sometimes dental emergencies happen but when it happen on your front teeth it can be pretty traumatic. Our smile is very important to us and breaking two front teeth is very scary. This patient had a fall and hit her two front teeth. She worked with the public and was so scared that her front teeth would never be back to how they were before her fall. She was also having pain from the trauma to the tooth. Dr. Roach had to do Root Canal Treatment on both front teeth due to the nerve damage from the fall. She also took a very consevative approach when restoring these teeth since patient's teeth prior to the fall were very beautiful. She did not want to drill all her teeth down to do full crown or even full veneers. Dr. Roach decided to do a very minimal preparation on the patient's teeth and a partial veneer was fabricated to replace just the missing areas of the tooth from the fall. The partial veneers were custom stained and shaped in our office lab and fitted using Dr. Roach's special bonding technique. The result was a seamless, beautiful partial veneer that has the same strength as a full crown of veneer but we did not have to remove or destroy more tooth structure.