Smile Makeover replacing Old Crown in Lake Mary, FL
Procedure Details
Smile Makeover included: Gum Recontouring, Old Crown removal and New All Porcelain Crown with Chairside Custom Staining and Characterization in our Office Lab.
More
Smile Makeover B & A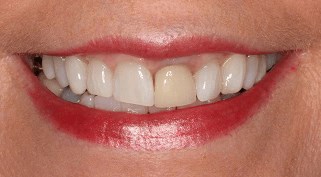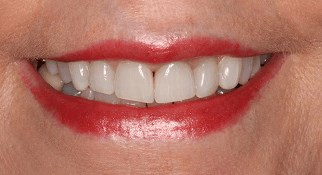 Smile Design and Cosmetic Dentistry completed by Dr. Patricia Roach. More
Replacing old Single Crown
Replacing or changing one single crown on a front tooth is one of the hardest things to accomplish in cosmetic dentistry. The crown has to match the natural adjacent teeth with it's shade, characterization and translucency almost exactly to blend in perfectly to look undetectable. This patient had and old porcelain fused to metal crown that did not match in shade, shape or contour. Her gumline on the two front teeth was not symmetrical either. Gum recontouring was done to bring some symmetry to the gumline. The old crown was removed and new all porcelain crown was placed that was custom stained, characterized and contoured in our office lab.